Pro Vice-Chancellor
---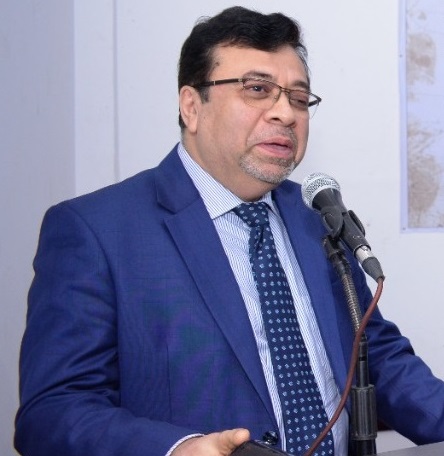 Prof. Dr. Mohammad Masrurul Mowla
Pro Vice-Chancellor
International Islamic University Chittagong
The Hon'ble Pro Vice-Chancellor's Profile
Message from Pro Vice-Chancellor

In the name of Allah - the most Beneficent, the most Merciful
All the praises and thanks be to Allah The Sustainer of the Worlds

The IIUC campus is about 20 km away from Chittagong city, situated in a beautiful natural green hilly zone at Kumira, Chittagong, a calm and quiet place for knowledge seekers and researchers. The present day popular term 'Blue Economy of Bangladesh', the resourceful marine water body, the Bay of Bengal is one kilometer west of IIUC campus. With luxurious main gate, the entrance of IIUC is on the Dhaka-Chittagong (Asian) Highway and the Chittagong-Dhaka-Chittagong Rail line is adjacent to IIUC campus.

IIUC is one of a few prestigious and top graded (top 10, UGC ranking 2018) government approved private universities of Bangladesh. IIUC has been approved by the Government on 11 February 1995. Academic activities were started from Autumn-1995. At present 13 prominent departments/programs at undergraduate level as well as 10 programs at post-graduate level are running under 6 renowned Faculties. For more details you may visit the IIUC website: www.iiuc.ac.bd. Recently, according to Cyber-metric ranking (July 2021), IIUC ranks 23 in the country ranking (out of 170 public and private universities) and 3899 in the world (out of 11987 universities). At present, IIUC campus is the largest University campuses among the private universities in Bangladesh with more than 300 teachers and 12,000 students from home and abroad, which makes the university exceptional. IIUC is working to reach its' cherished goal, the honored top position at home and abroad within short time for which IIUC is engaged to improve its academic structure according to the IIUC Vision 2030-a roadmap for excellence, prepared in 2017.

IIUC is not merely an academic institution or an examining body - it is primarily a "nursery of good citizens". We, therefore, emphasize the diffusion of scientific technical and professional knowledge on one hand and building up of character in youth by making religion and ethics, an integral part of education on the other. The objective of IIUC is to create a new generation of competent youths who will be equipped with academic excellence, professional expertise and adorned with moral height.

Regardless of race, region and religion, IIUC's door is open to the admission seekers from all over the world. This university cherishes the dream of becoming one of the highest seats of learning and creates knowledge in the South East Asia as well as in the world. At present, foreign students are graduating under the Faculties of Shari'ah and Islamic Studies, Science and Engineering, Business Studies, Social Science, Arts and Humanities and Law. Both male & female students from China, Nepal, India, Sri Lanka, Maldives, Somalia, Ethiopia, and Nigeria are studying in IIUC in different undergraduate and graduate programs.

Graduates of IIUC are serving in different prominent sectors at home and abroad. After graduation, students of IIUC are also doing higher studies in USA, Australia and countries of Europe and Asia and some of them are also engaged in teaching and other different jobs at abroad.

IIUC is fully engaged to give need base higher education to develop high quality educated manpower with morality to serve the country with dignity and labour. Students will always find a friendly face and helping hand in the IIUC campus. We assure our students a healthy congenial atmosphere for higher study at IIUC campus.

May Allah guide and bless our students to the path of grand success.